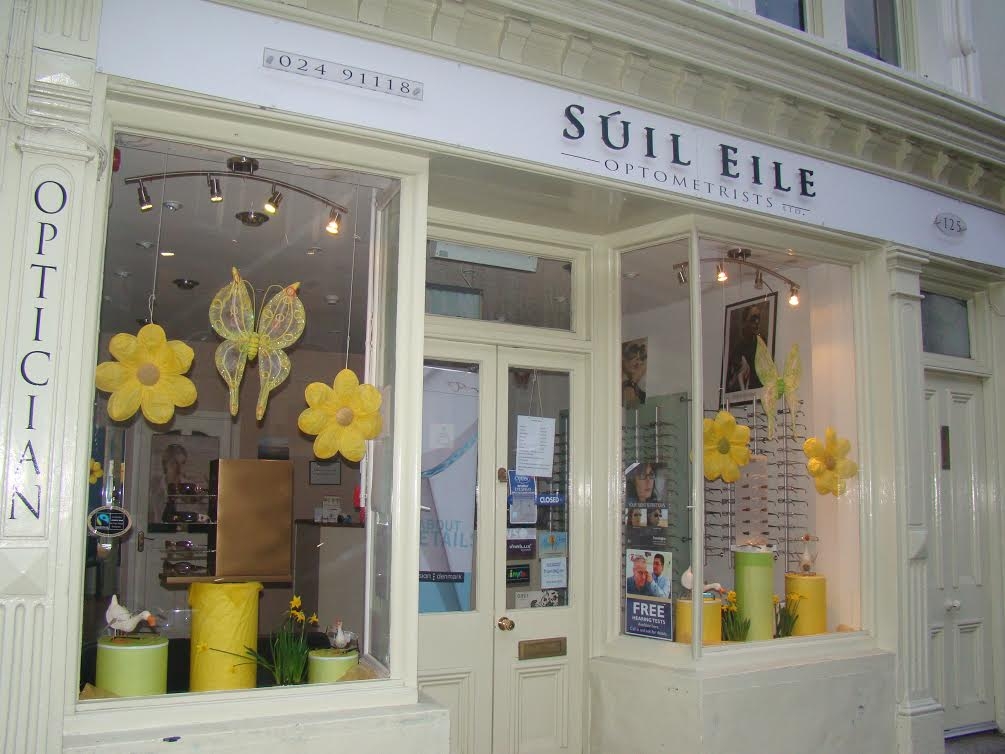 Owned and run by optometrist Sue Doherty, Suil Eile Optometrists have been providing full family eyecare services to Youghal and surrounding areas since February 2007.
Over the past 12 years Sue has moulded the practice into one of the leading independent optometrists in Cork. Our dedication and commitment means that all our patients receive a superior eyecare service from our helpful, friendly and knowledgeable staff. Suil Eile has developed a reputation as a leader in childrens eyecare in Cork. 
Our mission is to deliver a superior level of eye care which encompasses eye examinations, frame choice, quality lenses, contact lens fitting, driving reports and glaucoma testing. We offer a professional, friendly and confidential service to all our clients and stock a wide selection of glasses and sunglasses. As well as stocking some of the most sought after designer brands, we also hold a great range of lower cost, high quality frames. 
We promise to deliver a full and comprehensive eye exam taking the necessary time to check vision, eye health and to discuss the best options for you and your eyes.
Our Team
Sue Doherty

Sue is both the owner and Optometrist at Suil Eile Optometrists. Sue originally from Donegal, qualified as an optometrist in 2002 with an honours degree from Dublin Institute of Technology. After spending a number of years gaining experience in Dublin and the UK, she moved to Cork and opened her own opticians. In 2017, she graduated with an MSc in clinical visual science having completed a research thesis on the use of eye drops in childrens eye examinations. She presented her work at the Childrens Vision Research Society Conference in Coleraine in July 2017 and it has since been published in a peer reviewed journal. In 2018 she completed a postgraduate certificate in Medical Retina in Ulster University and was awarded a distinction. She completed a course in eye care for patients with learning disabilities in Cardiff University in 2017. She is a member of the Irish Association of Optometrists, British Contact Lens Association and the British Association of Behavioural Optometrists. She has a keen interest in childrens eye care and eye care for patents with special needs. She is a qualified behavioural optometrist.  Her professional yet friendly manner accompanied with her superior eye care knowledge has resulted in a growing and loyal patient base that travel from near and far to see her. 
Karen Coll
Karen is a part time optometrist at Suil Eile Optometrists. She joined the team in 2014. Karen graduated from Ulster University with an honours degree in Optometry in 2000. She brings a wealth of knowledge to the practice having worked in Northern Ireland before moving to Cork. 
Angie Mc Namara
Angie, a Youghal native joined the team in 2012. She brought with her an enthusiasm for style and dispensing and has a wealth of experience assisting patients choose frames and lenses to fit their life style . She completed her certificate in Ophthalmic Dispensing in 2017.
Aoife Murphy
Aoife joined the team in November 2017. Aoife brought a wealth of knowledge to the practice having started her career in optics while living in Canada where she managed the contact lens department of a large opticians.  Her love of fashion and knowledge of the latest high tech lens designs will ensure you find the perfect glasses to meet your optical needs. She is due to begin her studies as a dispensing optician. 
We work together as a team to provide our patients a superior eyecare service and excellent customer service; we look forward to seeing you soon!